11 Nov

The Ten Best Phone Apps To Improve Your Mental Health

We spend a lot of our time hooked to our mobile phones, using them to catch up with friends, keep notes, send emails, search for recipes, and (shamefully) taking copious photos of our food to post on social media. So, why not make a change and turn your mobile phone into a useful tool that you can use to improve your mental health?

With the ever increasing improvement of technology, mobile phone apps are forever getting more efficient, faster and more personalised – and there's plenty of apps available to help us improve our state of mind. I spent some time doing some research into the hundreds of mental health apps available, here's a list of the top ten that I fell are the most useful. Enjoy!
1. Headspace
Headspace is a personal meditation and mindfulness app designed to help you to calm your mind. Through guided meditation, you can reduce stress, stay focused and put yourself in a positive frame of mind. The app offers hundreds of meditation and mindfulness sessions, in a variety of time frames, to help you to reduce stress, manage anxiety, control eating habits, and sleep better.
Android? Yes.
iPhone? Yes.
Cost? Free, but in-app purchases to get specific meditation bundles.
2. Calm
Named 2017 app of the year by Apple, this award winning app is designed to help you meditate your way to a more positive mindset. This app allows you to chose your top goals, for example to develop gratitude, reduce stress, reduce anxiety or learn to mediate. There are hundreds of soothing podcasts that will guide people through various types of meditation to help you achieve your set goals. Sessions can last between two and twenty minutes, and can be individual or unguided.
Android? Yes.
iPhone? Yes.
Cost? There is a monthly subscription of £7.99.
3. Moodnotes
Collaborated with Cognitive Behavioural Therapy experts, this app is uses evidence-based tools to help you be more positive in your thinking habits. Much like Cognitive Behavioural Therapy, the app empowers you to capture your daily moods to help you to improve your thinking habits so that you can avoid negative thinking and develop the positive life perspectives that are associated with increased happiness and well-being.
Android? Yes.
iPhone? Yes.
Cost? £4.99
4. Happify
Happify offers science-based activities and games to help you to improve your emotional well-being, reduce stress, overcome negative thoughts and build a greater resilience. The app includes activities for you to complete each week to help you to measure you emotional well-being, take control of your feelings, break away from old and unhelpful behavioural patterns and form new, healthy habits.
Android? Yes.
iPhone? Yes.
Cost? Free, but in-app purchases.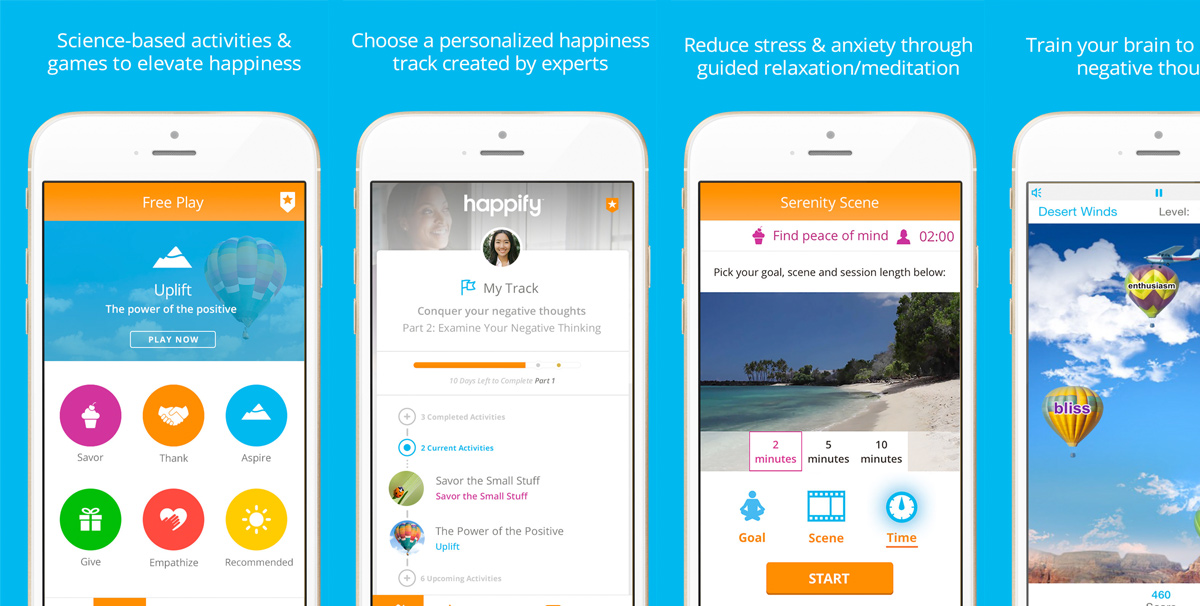 5. Daylio
Daylio is a mood tracker and micro-diary app that helps you to create new, productive and helpful habits such as waking up earlier, eating healthier or starting exercise. The app allows you to record your daily moods, add activities that you have been doing during the day and keep a diary. The app also has a 'statistics calendar', which is where the data of your moods and activities is visually presented,  allowing you to gauge a better understand your habits so you can create daily patterns to become more productive.
Android? Yes.
iPhone? Yes.
Cost? Initially free but there are in-app purchases.
6. Mindshift
This app is designed to help people deal with anxiety by changing how you think about anxiety; instead of avoiding it, the app encourages you to change your mindset and face your anxiety. MindShift will help you to develop helpful ways of thinking, learn how to relax, and learn active steps that will help you take charge of your anxiety. This app has tools to help you deal with everyday anxiety and specific tools to help you deal with: sleep, perfectionism, social anxiety, performance anxiety, worry, panic and conflict.
Android? Yes.
iPhone? Yes.
Cost? Free.
7. Sleep Cycle
This app tracks your sleep cycle every night using the built in motion detector and microphone of your iPhone or Android device. The app will then wake you up when you are in the lightest possible sleep stage of your sleep cycle, providing a natural and pleasant way to wake up. Waking up in a natural way will make your mornings brighter and put you in a positive mindset for the rest of the day. You can also track your sleep cycles – a valuable way of understanding your low moods and anxieties that may be affecting your sleep.
Android? Yes.
iPhone? Yes.
Cost? Free, but in-app purchases.
8. Slivercloud
Based on over 15 years of research, Silvercloud offers 30+ programmes, all designed to improve mental health and add recovery from chronic health conditions. Partnered with 220 healthcare organisations, the app aims to put evidence-based mental and behavioural solutions at the centre of healthcare by delivering engaging and convenient online experiences that are 'as effective as face to face therapy, but with less cost'. The app uses complexed algorithms, machine learning and artificial intelligence, to make it personal for each user.
Android? Yes.
iPhone? Yes.
Cost? Free.
9. Elefriends
Elefriends is a supportive online community created by the mental health charity Mind. Originally, Elefriends was a Facebook page designed to encourage people to talk openly about mental health. However, in 2012, Mind realised that Facebook wasn't the place for such a community, so created an app that is carefully designed to provide a support environment to mental health suffers. The app is moderated daily by the 'Ele handler' team from 10am till midnight, helping to ensure that the app promotes a safe place where you can listen to and support the struggles of others, and share your own thoughts and struggles.
Android? Yes.
iPhone? Yes.
Cost? Free.
10. Colorfy
A less demanding and more fun mental health app, colorfy helps you to relax and unwind at the end of each day by encouraging you to paint designs on your mobile phone. The app offers a wide range of paintings for you to complete, and helps you to take your mind off the stresses and pressures of daily life.
Android? Yes.
iPhone? Yes.
Cost? Free, but in-app purchases.